Netflix comença a tenir una oferta bastant grossa d'anime, i crec que estaria bé fer-ne una llista, posar-hi una petita valoració (tot i que no sé com fer-ho, el meu criteri no serà el de tots) i enllaçant al fil de discussió del fòrum.
M'ajudau a completar-la?
He trobat aquest
lloc web
que et permet cercar les sèries de Netflix, a un país en concret, filtrant-ho i tal, crec que està bastant complet (tot i que no trob Fullmetal Alchemist: Brotherhood!). També hi falta Assassination Classroom... Bé, comentau-ho i tal

Aquest és el llistat, ordenat per data d'inclusió a Netflix (crec) descendent. Comentau quins animes heu vist i quins recomanau i quins no, i si a més enllaçau al fil del fòrum on en xerram, millor! Jo aniré mantenint actualitzat aquest llistat

revisions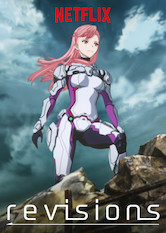 When Shibuya time-warps to 2388, high schooler Daisuke and his friends are conscripted by AHRV agent Milo to fight the hostile cyborg race, revisions.
series, 2018
GODZILLA The Planet Eater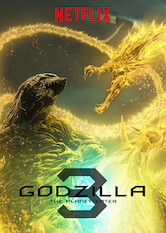 With the earth alliance weakened, Haruo weighs siding with the Exif, whose death cult is summoning a monster that can destroy the world.
movie, 2018
The Seven Deadly Sins the Movie: Prisoners of the Sky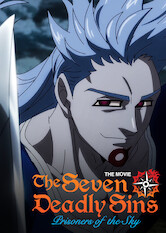 The Seven Deadly Sins aid the Sky People against a powerful group of demons hellbent on resurrecting a demonic beast sealed over 3,000 years ago.
movie, 2018
Aggretsuko: We Wish You a Metal Christmas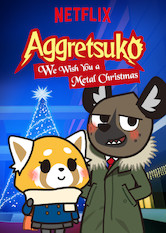 While Retsuko desperately makes plans for Christmas Eve, her new obsession with seeking validation through social media spirals out of control.
movie, 2018
HERO MASK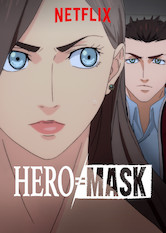 After a rash of mysterious deaths, Crown prosecutor Sarah Sinclair and SSC agent James Blood discover a conspiracy surrounding uncanny new bio-masks.
series, 2018
Made in Abyss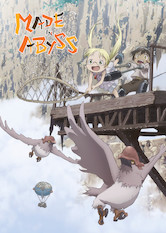 Together with her humanoid friend Reg, a young girl named Riko hopes to one day solve the mysteries surrounding the endless chasm known as the Abyss.
series, 2017
Batman Ninja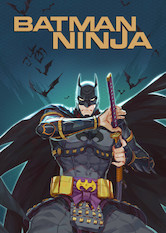 Reimagined by Japan's finest artists, Batman must face his foes in feudal Japan when a malfunctioning Quake Engine transports them all back in time.
movie, 2018
Ingress: The Animation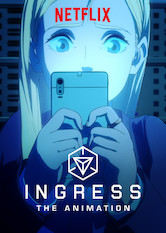 After scientists discover a mysterious substance that can influence human minds, two factions wage an all-out battle to control its awesome power.
series, 2018
Violet Evergarden: Special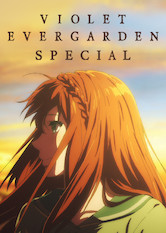 Auto Memory Doll Violet Evergarden writes letters for people who can't, learning about her war-torn country and her own hardened heart along the way.
series, 2018
Hellsing Ultimate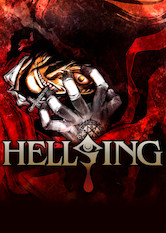 Sworn to protect England from the supernatural, Sir Integra of the Hellsing Organization fights alongside her protector, the immortal vampire Alucard.
series, 2012
Flavors of Youth: International Version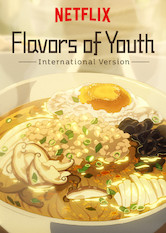 Memories in a bowl of steaming noodles, a fading beauty finding her way and a bittersweet first love -- all in these stories of city life in China.
movie, 2018
Hi Score Girl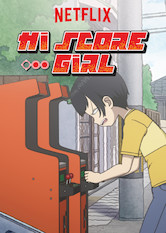 A chronic gamer abysmally inept in academics and sports finally meets his match at his usual shady arcade -- and it's his rich classmate, Akira.
series, 2018
Sirius the Jaeger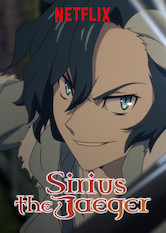 In imperial Tokyo, a group calling themselves 'Jaegers' secretly hunt the vampires seeking the Arc of Sirius. Among them is young werewolf, Yuliy.
series, 2018
GODZILLA City on the Edge of Battle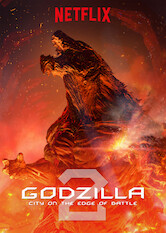 On Earth, Haruo and his companions make contact with the indigenous Houtua tribe. To defeat Godzilla, they set out for the old Mechagodzilla facility.
movie, 2018
Back Street Girls -GOKUDOLS-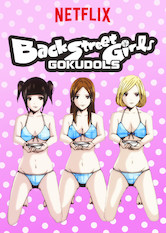 To pay for an epic blunder, three yakuza brothers are forced to alter their bodies, form a girl group and break into the underground J-Pop idol scene.
series, 2018
The Asterisk War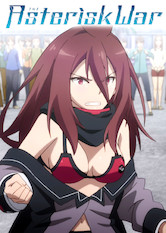 A 'Genestella' -- a new breed of powerful human -- named Ayato enrolls in a competitive school for people like him, hoping to find his missing sister.
series, 2015
Fate/Grand Order -First Order-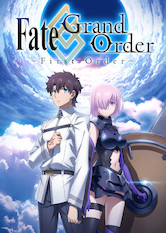 Discovering that humanity is facing extinction, a new recruit to the Chaldea Security Organization goes back in time in order to save the future.
movie, 2016
BAKI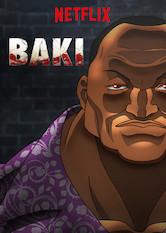 While martial arts champion Baki Hanma trains hard to surpass his legendary father, five violent death row inmates descend upon Tokyo to take him on.
series, 2018
Blue Exorcist -Kyoto Saga-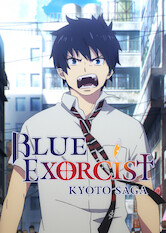 As a son of Satan, Rin Okumura has six months to control his powers. He and his comrades head to Kyoto, where a traitor plans to steal a demon relic.
series, 2017
Aggretsuko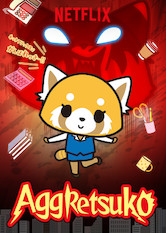 Frustrated with her thankless office job, Retsuko the Red Panda copes with her daily struggles by belting out death metal karaoke after work.
series, 2018
DRAGON PILOT: Hisone and Masotan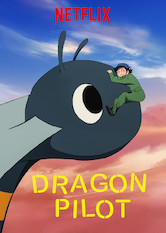 Recently stationed Air Self-Defense Force rookie Hisone Amakasu is chosen by a dragon concealed within Gifu Air Base to be his pilot.
series, 2018
Forest of Piano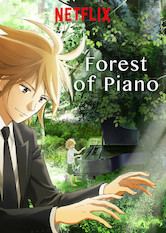 Kai grows up playing an old piano discarded in the woods; Shuhei's father is a famous pianist. Their chance meeting transforms their lives and music.
series, 2018
LOST SONG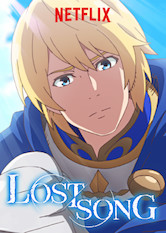 War looms over the kingdom of Neunatia, where two young women are both burdened and blessed by the power of song.
series, 2018
LAST HOPE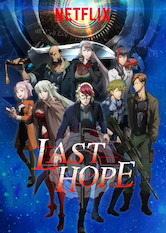 After causing the near extinction of mankind seven years ago, genius scientist Leon Lau must now fight the ecological disaster he unwittingly created.
series, 2018
SWORDGAI The Animation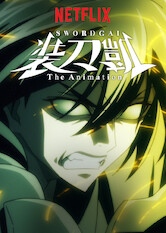 A young man becomes host to a legendary infernal sword and, with the fate of humanity now in his arm, wields its demonic power against his enemies.
series, 2018
A.I.C.O.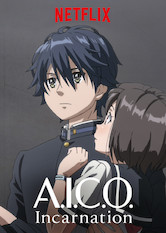 Everything Aiko knew was a lie. Now she's joining a team of Divers to reach the place where the Burst began to stop it for good and save her family.
series, 2018
Fate/EXTRA Last Encore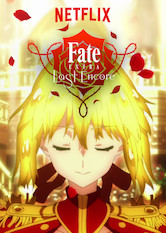 Hakuno Kishinami finds himself in the midst of a Holy Grail war with no memories of how he got there. Through his confusion, he must fight to survive.
series, 2018
Godzilla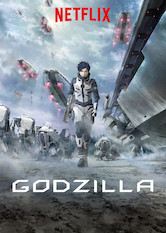 A desperate group of refugees attempts to recolonize Earth 20,000 years after Godzilla took over. But one young man wants revenge above all else.
series, 2017
Violet Evergarden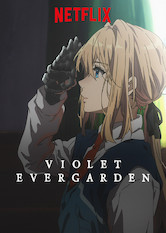 The war is over, and Violet Evergarden needs a job. Scarred and emotionless, she takes a job as a letter writer to understand herself and her past.
series, 2018
Children of the Whales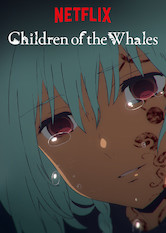 As a magic wielder, young archivist Chakuro knows his time is short, but everything changes when a girl from the outside appears on his island.
series, 2017
March Comes in Like a Lion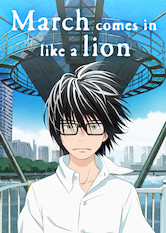 Orphaned young, a reclusive 17-year-old professional shogi player starts to come out of his shell when three sisters take him under their wing.
series, 2016
劇場版 フェアリーテイル DRAGON CRY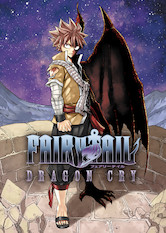 The Fairy Tail Guild's quest to retrieve the deadly and destructive Dragon Cry staff forces dragon slayer Natsu to undergo a dangerous transformation.
movie, 2017
Your Name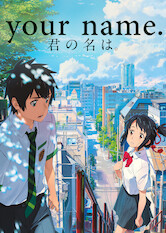 A bored girl in the countryside starts sporadically waking up in the body of a city boy who's living the exciting life she'd always dreamed of.
movie, 2016
Death Note Relight: Visions of a God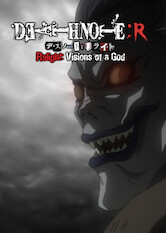 The story of vigilante Light's cunning evasion of the law is retold through the eyes of Ryuk, a death god and original owner of the Death Note diary.
movie, 2007
聖闘士星矢 黄金魂 -soul of gold-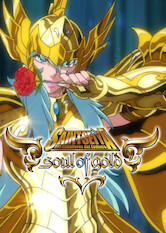 The legendary 12 Gold Knights of Athena thought to have perished in the holy war against Hades are resurrected to face the God Warriors of Asgard.
series, 2015
Gurren Lagann: The Movie: Childhood's End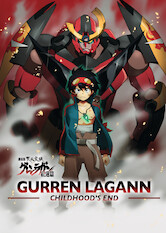 When a collapsed ceiling reveals an unfamiliar land, Simon and his friend jump at the chance to explore it. But an evil king and his army await.
movie, 2010
Gurren Lagann: The Movie: The Lights in the Sky Are Stars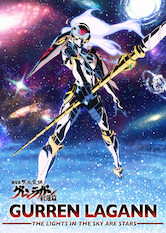 Seven years after Simon and his rebels defeated the Spiral King at the cost of Kamina's life, humanity's prosperity attracts the alien Anti-Spirals.
movie, 2010
Grave of the Fireflies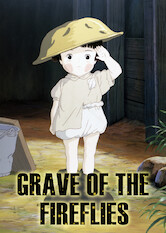 Two orphans fight for survival in post-World War II Japan, but society is harsh and they struggle to escape the hardships of war and find enough food.
movie, 1988
Mobile Suit Gundam UC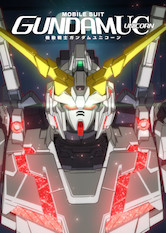 When Banagher Links meets the mysterious Audrey Burne, he inherits the Unicorn Gundam and is swept up into the battle for space colony independence.
series, 2014
Is It Wrong to Try to Pick Up Girls in a Dungeon?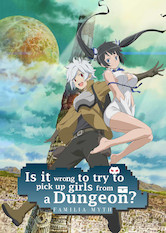 Lovable goof Bell Cranel wants an adventure, and when he meets the diminutive goddess Hestia, he gets much more than he bargained for.
series, 2015
Kakegurui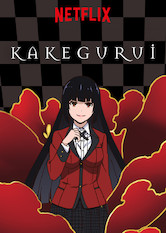 High roller Yumeko Jabami plans to clean house at Hyakkaou Private Academy, a school where students are evaluated solely on their gambling skills.
series, 2017
Fate/Apocrypha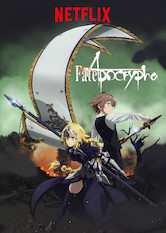 The theft of the Greater Grail from Fuyuki City leads to a splintered timeline in which the Greater Holy Grail War is waged on an unprecedented scale.
series, 2017
ID-0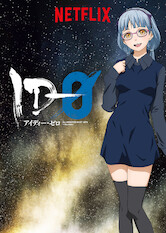 In the midst of a field exercise operating I-Machines, Alliance Academy student Maya Mikuri is thrown into an entirely different kind of adventure.
series, 2017
JoJo's Bizarre Adventure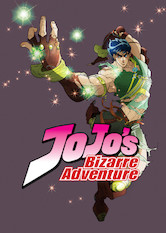 Multiple generations of the Joestar family -- all with the same nickname -- confront supernatural villains through a series of time periods.
series, 2016
Cyborg 009: Call of Justice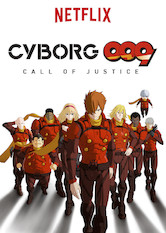 Years after taking up normal lives incognito, the cyborgs are forced to fight again when the superhuman Blessed appear with a plan for humanity.
series, 2017
Little Witch Academia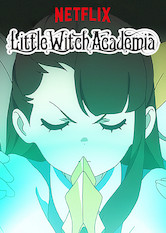 Akko enrolls at the Luna Nova Academy for witches. She's not the best student, but her bright attitude is the key to her and her friends' success.
series, 2017
Attack on Titan: The Wings of Freedom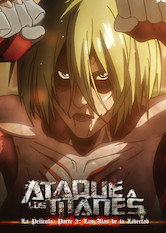 In this second compilation film, humanity's fight against giant humanoids is complicated when a human becomes able to transform into the enemy.
movie, 2015
Charlotte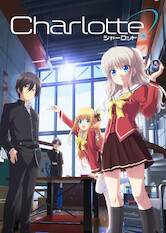 A boy with superpowers is forced to join his peers at a special school where they can protect themselves from organizations who seek to exploit them.
series, 2015
Noragami Aragoto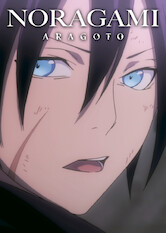 To build his reputation, minor god Yato sells wishes granted for cheap and dispatches Phantoms with help from the spirit Yukine and human girl Hiyori.
series, 2015
Haikyu!!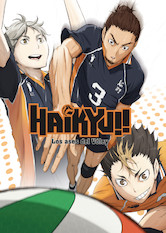 Inspired by a championship match he sees on TV, junior high schooler Hinata joins a volleyball club and begins training, despite his short height.
series, 2014
Guilty Crown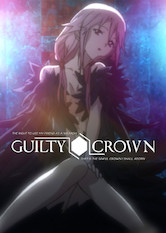 After a viral apocalypse, Japan has lost its independence to GHQ. When high school student Shu gains a strange power, he's drawn into the resistance.
series, 2011
Erased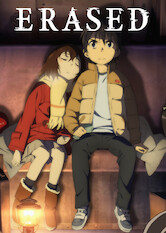 Satoru Fujinuma can travel back in time to save others' lives. When he wakes up 18 years in the past, he has a chance to save his murdered classmates.
series, 2016
The Disastrous Life of Saiki K.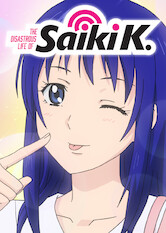 High school sophomore Kusuo Saiki swore as a child that he would keep his psychic talents hidden, but his abilities still make his life difficult.
series, 2016
Magi: Adventure of Sinbad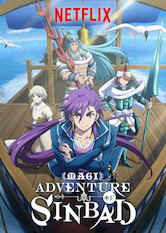 The Magi who became High King of the Seven Seas started as a boy determined to make the world a better place. He begins with a dangerous dungeon.
series, 2016
Kuromukuro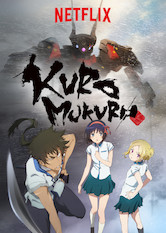 When mecha attack a research center, its students, pilots, and researchers must fight back with the help of mysterious artifacts and a young samurai.
series, 2016
Cyborg 009 VS Devilman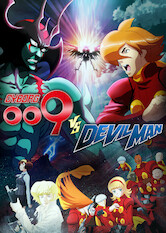 When a Black Ghost scientist releases newly modified cyborgs and mysterious demons appear in Tokyo, the worlds of 'Devilman' and 'Cyborg 009' meet.
series, 2015
Angel Beats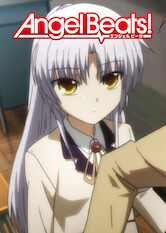 In a high school that's a way station to the afterlife, a teenager gets caught up in the battle for the rights of those in this purgatorial world.
series, 2010
Your Lie in April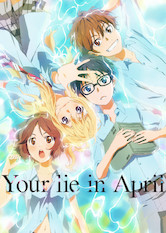 After his mother's death, a piano prodigy's will to play disappears. But meeting a free-spirited girl who plays the violin turns his life around.
series, 2014
Code Geass: Lelouch of the Rebellion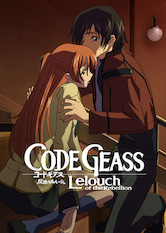 A high-schooler who's granted powers to make anyone instantly obedient dons a mask to lead Japan's rebellion against a long-invading Britannia.
series, 2006
Ajin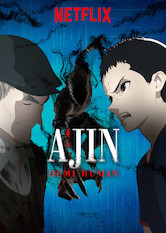 A teenager discovers that he is an Ajin and flees before the authorities experiment on him. Other Ajin plan to fight back and he must choose a side.
series, 2016
Rurouni Kenshin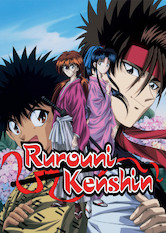 A nomadic swordsman arrives at a martial arts school in Meiji-era Japan, where he lands in the middle of a conflict involving the opium trade.
series, 1996
Durarara!!X2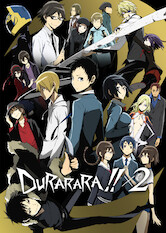 Six months after turmoil rocked the city of Ikebukuro, peace has returned. But the headless Celty still rides, and a new scheme is afoot.
series, 2015
Little Witch Academia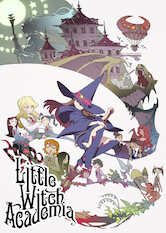 Akko's unconventional ideas don't go over well at the Magical Academy, but when a dragon is unleashed, she may be the only witch who can save the day.
movie, 2013
Little Witch Academia: The Enchanted Parade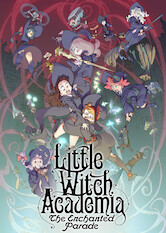 When Akko and other troubled students at Luna Nova are assigned to manage the annual witch hunt parade, Akko wants to make the event more positive.
movie, 2015
Sword Art Online II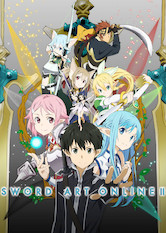 A video game whiz creates a new technology that enables players to guide their online avatars with their own bodies -- but a dark twist emerges.
series, 2014
Seven Deadly Sins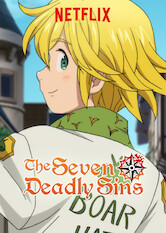 When a kingdom is taken over by tyrants, the deposed princess begins a quest to find a disbanded group of evil knights to help take back her realm.
series, 2015
Anohana: The Flower We Saw That Day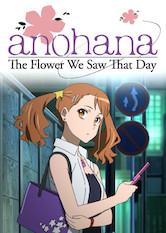 A teen haunted by the spirit of an old friend summons the other members of their childhood club to help fulfill the girl's final wish.
series, 2011
5 Centimeters Per Second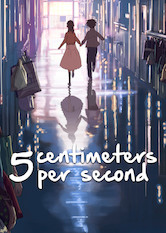 Inseparable fourth-graders Takaki Tonoo and Akari Shinohara -- bonded by a love of books -- begin to slowly drift apart when their families relocate.
movie, 2007
The Garden of Words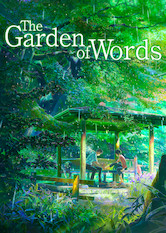 When a lonely teenager skips his morning classes to sit in a lovely garden, he meets a mysterious older woman who shares his feelings of alienation.
movie, 2013
Ghost in the Shell 2: Innocence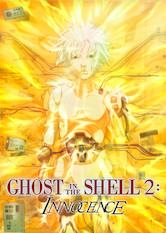 In the year 2032, a crime-fighting cyborg investigates a murder spree committed by 'gynoids,' human-like female robots designed for pleasure.
movie, 2004
Fate/stay night: Unlimited Blade Works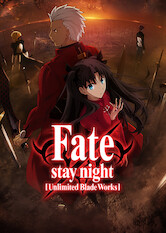 High school students Rin and Shiro pair up as allies when they're chosen to compete in a secret tournament for possession of the Holy Grail.
series, 2014
InuYasha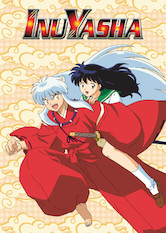 Yanked down a well, schoolgirl Kagome Higurashi emerges in feudal Japan, where she must reassemble a sacred jewel while eluding half-demon InuYasha.
series, 2000
K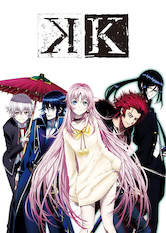 A young boy is wanted for a crime he has no recollection of committing and must go on the run, hunted by two powerful kings and their forces.
series, 2012
Tokyo Ghoul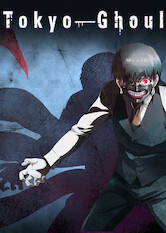 Tokyo is haunted by ghouls who resemble humans but feast on their flesh. As a ghoul-human hybrid, Ken Kaneki finds himself caught between two worlds.
series, 2014
Psycho-Pass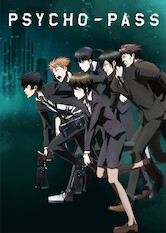 In the year 2113, people are given brain scans to determine how likely they are to commit a crime. Those who fail are apprehended, or even killed.
series, 2012
Noragami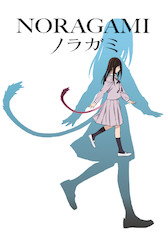 Though he's a deity, nobody really worships Yato. But after he teams with a young girl, the pair sets out to bring him the recognition he craves.
series, 2014
Vampire Knight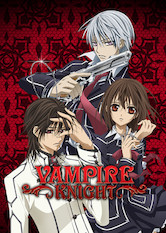 At Cross Academy, two student disciplinary committee members are tasked with keeping the peace between a human class and a night class of vampires.
series, 2008
Berserk: The Golden Age Arc I - The Egg of the King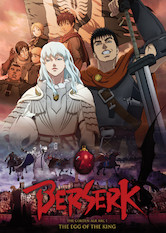 Loner Guts is recruited by Griffith and his band of mercenaries, but their ensuing success as a full-fledged army could lead to a horrible fate.
movie, 2012
Fullmetal Alchemist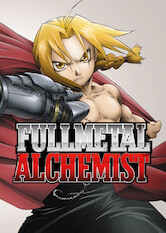 Brothers Edward and Alphonse use alchemy to resurrect their mother, but they unleash a chemical reaction that tears apart their bodies.
series, 2003
Attack on Titan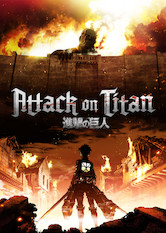 With his hometown in ruins, young Eren Yeager becomes determined to fight back against the giant Titans that threaten to destroy the human race.
series, 2013
Naruto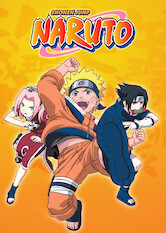 Guided by the spirit demon within him, orphaned Naruto learns to harness his powers as a ninja in this anime adventure series.
series, 2002
Madoka Magica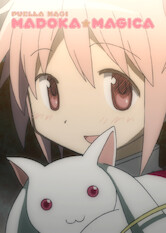 One day, Madoka Kaname has a very magical encounter, one that can change her destiny. This is the beginning of the new story of magical witch girls.
series, 2011
Knights of Sidonia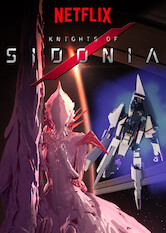 A hero rises to save a world that's also a spaceship under siege by an alien threat in this original anime series based on the popular manga comic.
series, 2014
Fate/Zero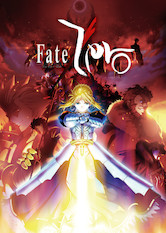 After three unsettled battles for the mystical Holy Grail, an artifact that grants a miracle to those who hold it, a fourth war begins.
series, 2011
Death Note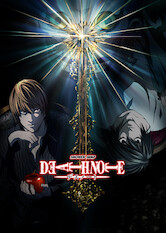 When a Japanese high schooler comes into possession of a mystical notebook, he finds he has the power to kill anybody whose name he enters in it.
series, 2006
Saint Seiya: The Lost Canvas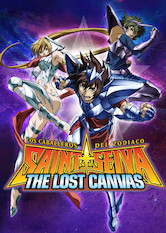 This anime adventure follows the battle between a saint of Athena and an avatar of Hades who's working on a painting that could destroy the world.
series, 2009
Saint Seiya: Legend of Sanctuary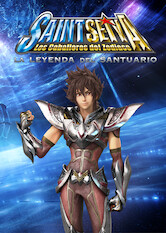 In this sixth film based on the manga series, a girl with mysterious powers joins an epic battle against an ancient evil threat called 'Gold Saints.'
movie, 2014
Blue Exorcist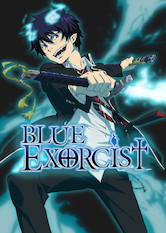 Determined to throw off the curse of being Satan's illegitimate son, Rin enters the True Cross Academy to become an exorcist, just like his mentor.
series, 2011
Sword Art Online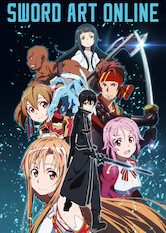 A video game whiz helps create a new technology that enables players to guide their online avatars with their own bodies -- but a dark twist emerges.
series, 2012
Script per generar això: